Recent Posts
1
« Last post by

Lenasok

on November 23, 2021, 10:58:17 AM »
2

Reporting for AGW News: |AGW|Fir3fox
June 27, 2021

---
TheHunter Call Of the Wild: BLOODHOUND DLC NOW LIVE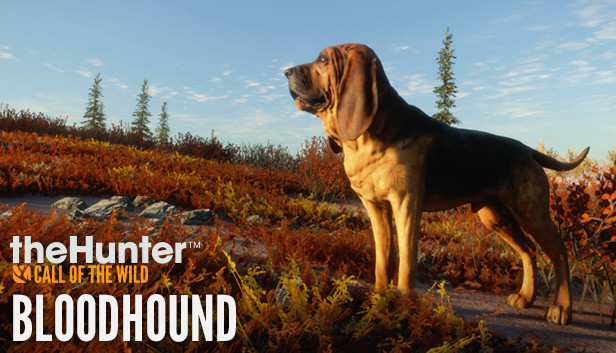 Hello Hunters,
Please see below for the full list of changes in the Bloodhound update:
NEW FEATURES
- Added support for new paid DLC: Bloodhound
- Blackbuck TruRACS
HELPFUL TIPS FOR HUNTING DOG
- To get your very own Bloodhound you'll need to visit the nearest Outpost locker.
- Additional information on the Bloodhound can be found in the Codex Tutorial Log.
- Like tracks, animals, and points of interest viewing options, you can find and tailor certain accessibility settings via the in-game menu under the Settings 'System' option.
BUG FIXES
- Reworked animal simulation code which should fix issues with animals not showing on time at need zones and not dropping clues while also improving performance
- Alexander Traditional Longbow (Silver Ridge Peaks) can now be used to complete several bow hunting missions in Layton Lake and Hirschfelden
- Fixed several issues resulting in animals falling out of sync between players in multiplayer game
- Fixed issue with Trophy Lodge multiplayer where a guest would spawn in an empty lot🔥
- On PC, the animal ranking leaderboards will not be empty anymore
- Fixed certain cases where the game would shut down due to becoming disconnected from Steam server (even when playing offline)
ADDITIONAL UPDATES
ANIMALS & ENVIRONMENT
- Fixed Turkeys so that they properly flee when spooked
- Fixed an invisible horn of a Bighorn Sheep on a very low-scoring set of horns
- Red Fox feeding need zones no longer show up right next to European Rabbit burrows
- Tweaked several side missions from Vualez Arc (Layton Lake) so that they're no longer so extremely hard to complete
- Revised the number of coyotes in Cheelah Lake to complete a mission
- Walking through shallow water won't be too loud anymore
WEAPONS, GEAR & CHARACTER
- Fixed Rangefinder Bow Sight (High Tech Hunting Pack) so that it shows distance to target in yards when using imperial unit system
USER INTERFACE & MULTIPLAYER
- Fixed an issue where human tracks (related to various missions) would show a random animal icon in the Tracking HUD
- Fixed issue where mounting weapons on gun racks during multiplayer session would prevent player from entering their trophy lodge again
- Fixed an exploit that allowed to harvest the same animal multiple times under severe network lag
- Fixed issue where confirmation prompt would remain on screen after closing Store, and could result in buying wrong item
- Fixed issue with ATV prompt showing for all players in a multiplayer game
- Huntermate will not show black screen now when user fast travels between outposts in Te Awaroa reserve
MISCELLANEOUS
- Fixed issue that made it impossible to jump or go prone after fast travelling from a treestand
- Various crash fixes
IMPROVEMENTS
- New left and right stick deadzone settings in System > Gamepad menu
- New mouse smoothing option in System > Keyboard / Mouse menu
- Text chat in multiplayer is now supported for Russian, Japanese and Simplified Chinese (only on PC, game's and system's language need to match)
- There is now a warning if you bind the same key/button to multiple actions (it's still possible to do it but it will help you avoid an error and give you a chance to cancel if you made a mistake)
- We added a limit of maximum 5 Trophy Lodges of each type (this is needed to solve certain save issues and ensure they won't happen in the future; your lodges won't be deleted if you're over that limit but you won't be able to create more lodges)
START YOUR HUNTING ADVENTURE
3

Reporting for AGW News: |AGW|Fir3fox
June 27, 2021

---
Community Crunch 274: Introducing Lost Island, Amargasaurus, and More:
June 27, 2021
Introducing: LOST ISLAND
Explore new heights and hidden depths in this expansive 150 sq. kilometer map where Survivors will encounter new biomes, challenges, and mysterious ruins! Whether it's exploring the valley of waterfalls, setting up your treehouse home in the Redwood Forests, getting down and dirty in the vast swamps, diving deep underwater, climbing snowy mountains, or caving, there's something for every Survivor out there! Arriving with the map will be 3 brand new real-world creatures, including the Amargasaurus and one chosen explicitly by the ARK community!
Lost Island and its creatures will be a free DLC coming to Steam, Epic, Xbox, PlayStation later this year!
Introducing everyone's favorite spiny sauropod, the aggressive armagaraurus
Of all the creatures in the sauropod family, Amargasaurus titanicus is likely the most unique looking. It sports two parallel rows of dorsal spines down the length of its neck, back, and tail--though the neck spines are significantly longer than the back or tail spines. These spines are a remarkable adaptation, giving Amargasaurus unmatched control of its body temperature. Made even more incredible by their time on ARKs, these spines store both extreme heat AND extreme cold, effectively allowing Amargasaurus to live comfortably in any environment. Its sails also make it an abnormally capable swimmer, for a sauropod.
Unlike most sauropods, Amargasaurus is very prone to violence, attacking most predators (and humans!) on sight. I suspect this behavior developed alongside the dangerous spines it uses as weapons.
Once finally tamed, it's no surprise that Amargasaurus' spines are its best feature. If removed early, their thermal storage becomes erratic, which is perfect for catalyzing sap development in many trees.
Some tribes, of course, adapted this thermal quirk for combat. By having Amargasaurus eject a spine before it sheds naturally, the freezing/warming waves that emanate from the spike play havoc with armor in the area. Interestingly, simple armor is barely affected, while more complex armor is more heavily affected.
4

Reporting for AGW News: |AGW|Fir3fox
June 27, 2021

---
Battlefield 2042 release date, maps, PS5 and Xbox Series X details:
June 27, 2021
Battlefield 6 is called Battlefield 2042: Here's our full lowdown on what to expect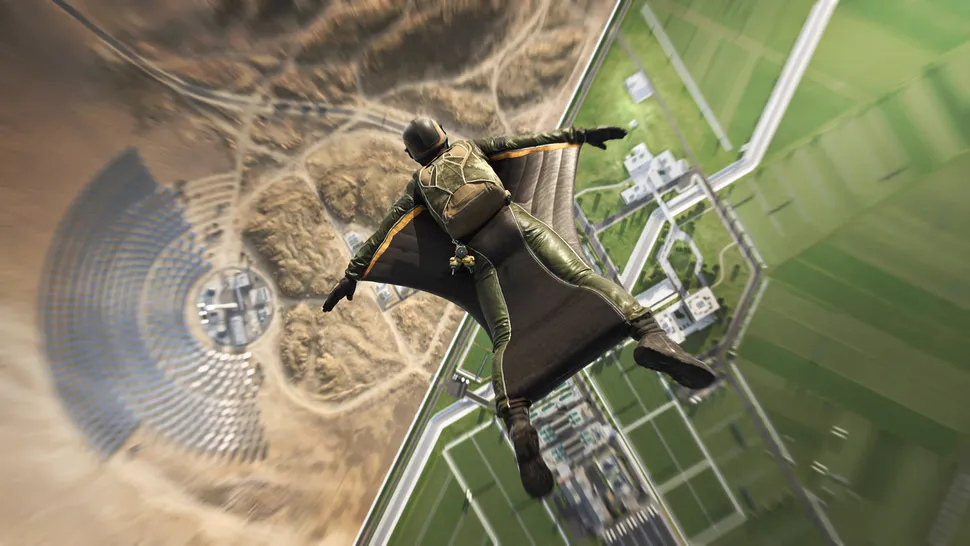 Battlefield 6 has finally been revealed, and its name is Battlefield 2042, nodding to both the title of DICE's first entry in its shooter sequel series, Battlefield 1942, as well as the last time it looked to the future of warfare with 2006's Battlefield 2142.
This next-generation of the all-out conflicts that players know and love from the Battlefield series promises to bring back the sandbox gameplay and destruction physics that have been somewhat forgotten about over recent instalments, alongside a fresh wave of new ideas and mechanics.
Below, you'll find everything you could ever possibly want to know about Battlefield 2042, including its release date, trailers, gameplay details, and more. Be sure to bookmark this page and check back in regularly, too, as we'll be updating it with more Battlefield 2042 news as soon as its announced.
The Battlefield 6 release date is October 22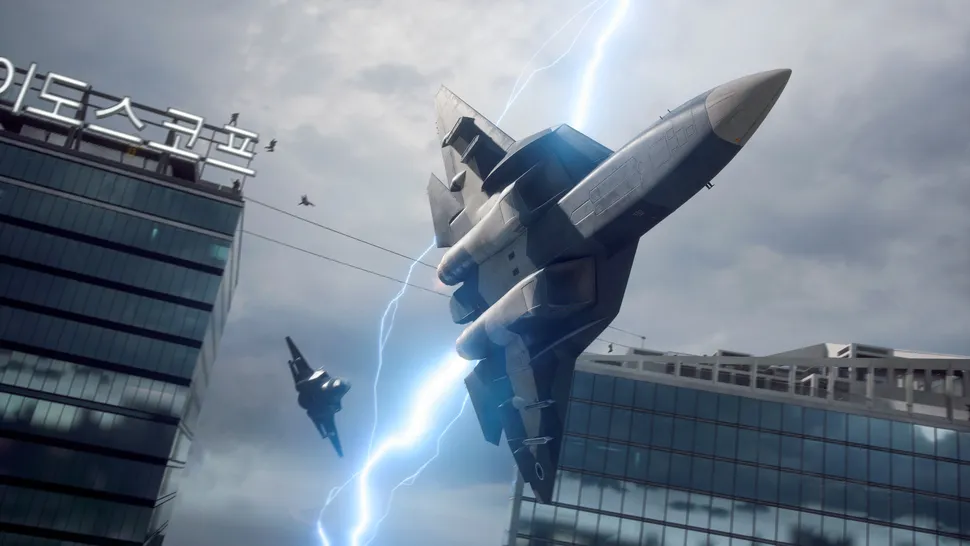 Electronic Arts confirmed that Battlefield 2042 is scheduled to launch this year, October 22 - that's a Friday, in case you're wondering whether to book the day off or not. As expected from the publisher, there are a number of various editions of the game up for purchase, but anyone who pre-orders Battlefield 2042 will receive a few extra digital goodies, alongside access to the Open Beta later this year.
Those who pre-order the Gold and Ultimate Editions of Battlefield 2042 will be able to play from October 15, however, while EA Play members will also get a ten-hour free trial of the game from that date too.
Battlefield 2042 will launch on PS5, Xbox Series X/S, PS4, Xbox One, and PC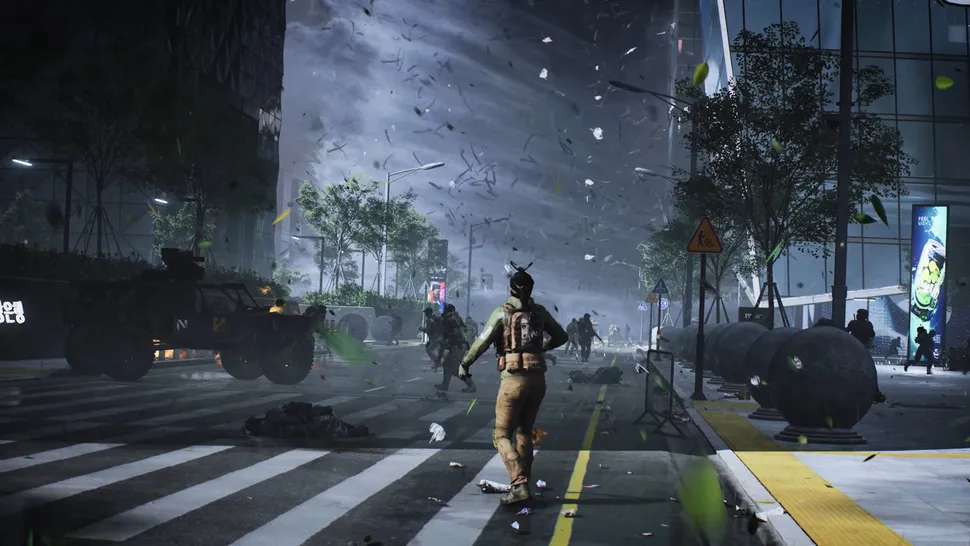 After much rumours about whether Battlefield 2042 would be a next-gen exclusive or not, DICE has confirmed that the game will launch on PS4 and Xbox One alongside its targeted PS5, Xbox Series X/S, and PC platforms.
However, there's a catch. On the old-gen consoles, player counts will be halved from 128 to 64, and the Battlefield 2042 maps will be limited in scale and size to better accommodate that smaller number of combatants. DICE has promised that players on those systems will still be able to enjoy large-scale wars with plenty of Only in Battlefield moments, however, and anyone who purchases a copy of Battlefield 2042 on PS4 and Xbox One will be able to upgrade to the next-gen version at no extra cost.
Battlefield 2042 gameplay proves this is the most sand-box enabling Battlefield yet
The first Battlefield 2042 gameplay trailer is a tantalising glimpse at what to expect from the game later this year, showing off DICE's next-gen visuals, scale, and gunplay from a pre-alpha build.
We see how the new Battlefield 2042 Specialists offer unique ways to play, such as grappling up to the top of a crane, and check out the game's Plus system at the 1:32 mark, in which players are able to switch between weapon attachments on the fly.
The sizzle reel also reveals how Battlefield 2042 destruction is operating at a level never seen from the series before, especially when the game's dynamic weather events - from tornadoes to sandstorms - wreak havoc across the battlefield.
Battlefield 2042 has no campaign or battle royale mode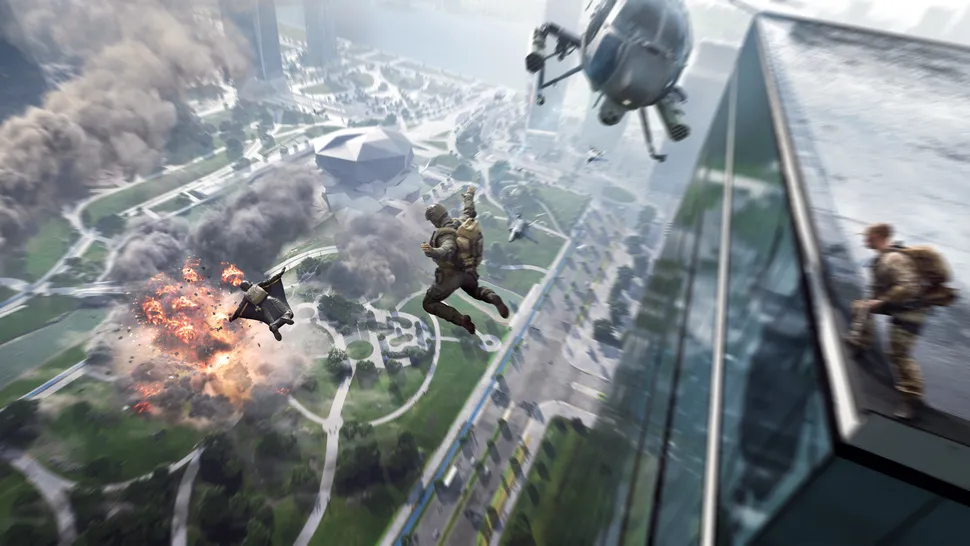 Battlefield 2042 is a multiplayer-only experience, with DICE avoiding the inclusion of a campaign entirely to instead focus on what it does best; creating the biggest and craziest online theatres of war known to the world of gaming. That may come as a disappointment to some, but the silver is that you can play Battlefield 2042 offline, with AI bots controlling both your teammates and the enemy force.
On that note, Battlefield 2042 is also launching without a battle royale mode, which DICE has categorically denied as being in development for the game. Again, however, there's a catch. The game will feature a a new mode called Hazard Zone, which it describes "high-stakes, squad-based game type" designed to be "a modern take on the multiplayer experience". I don't know about you, but that sure sounds like a Battlefield-inspired twist on battle royale if I've ever heard of one...
Battlefield 2042 has a battle pass, seasons, and year one roadmap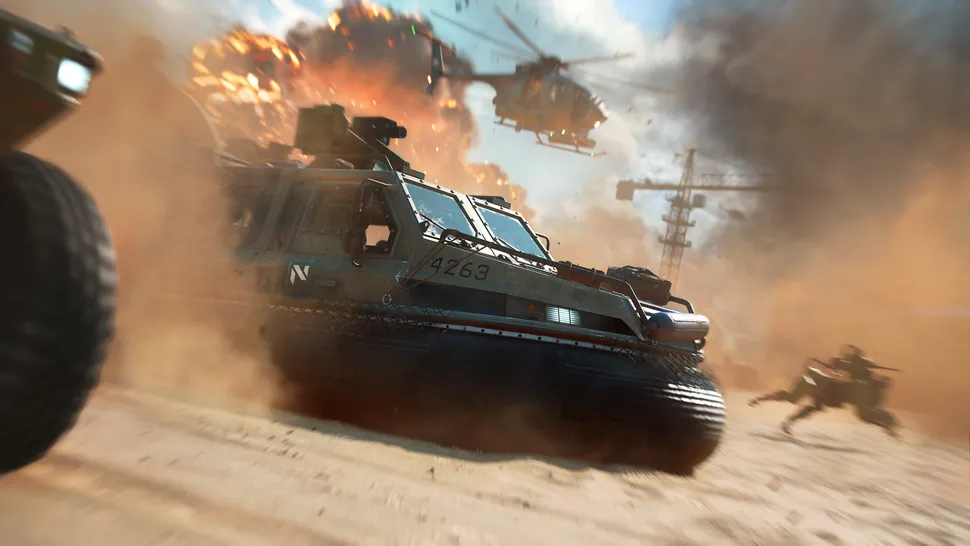 DICE has made a public commitment to supporting Battlefield 2042 well into its first year and beyond with new content, updates, and more for players, though a good portion of this content will only be accessible to those who purchase the game's year one battle pass, which is available to buy separately, or part of the Gold and Ultimate Editions of the game at launch.
This pass will give you access to four new Specialists to be released over the course of Battlefield 2042's first 12 months, alongside the battle pass for the first four seasons of the game's live service. Other additions, such as new maps or guns, will be free to all players, so don't worry - the battle pass isn't essential unless you're desperate not to miss out on everything Battlefield 2042 has to offer over the course of its post-launch support.
Here are all the most exciting new games coming out in 2021 and beyond on PS4, Xbox One, Nintendo Switch, and PC
5

Reporting for AGW News: |AGW|Fir3fox
June 27, 2021

---
Biomutant Patch 1.4 for PC and consoles released:
June 27, 2021
Update June 8th 2021
; We just released a small hotfix (1.4.1) on PlayStation to address the increasing number of stability issues after patch 1.4 on PlayStation 4 Pro and PlayStation 5.
Update June 7th 2021
; This patch has been released for PC and also on PS4 and Xbox One.
PlayStation 4 Specific
- Fixed alignment on memory allocation on some buffers to avoid crashes
PC Specific
-Fixed crash with AMD-based CPUs with built-in graphics.
-Fixed crash when device info contains invalid display data on AMD-based CPUs.
Tutorial Area
In order to improve the pacing of the early parts of the game, we've edited dialogues to be shorter.
We've also added more enemies and loot to these areas to better represent the experience later in the game.
- Added more early enemy encounters.
- Added missing loot in empty trenches outside Jagni Fortress.
- Added Item drop chance for Bunker 101 crates.
- Updated Best-Before memory to decrease the distance between the Nonos and the Pensai tree.
- Removed some parts of Out-of-Date and Best-Before's dialogues to improve pacing.
- Removed multiple dialogue fragments to shorten tutorial area length.
- Removed some parts of Goop and Gizmo's dialogues to improve pacing.
- Removed multiple camera presentations to improve pacing.
Dialogue & Narrator
- Reduced the amount of gibberish spoken before the Narrator starts translating.
- Added dialogue setting toggles for "Gibberish" and "Narrator" allowing players to select if they want to hear the narrator, the gibberish or both when talking to NPCs.
- Fixed narration and gibberish playing silently and producing an awkward pause when each corresponding volume setting is set to 0 instead of skipping the sound entirely.
- Removed the text delay animation when either gibberish or narration is disabled.
Difficulty Settings
- Added "Extreme" difficulty setting, where enemy damage and attack rate is further increased.
- Fixed difficulty settings not being applied for already spawned enemies.
New Game+
- Opened up all class perks for NG+ games. When starting a NG+ game, the player will now be able to unlock perks from all classes.
Settings
- Added Motion Blur slider to the settings.
- Fixed so the camera setting "Auto Adjust > Player" also applies for combat, if turned off the camera will no longer try to frame enemies while in combat.
- Fix Depth of Field toggle not being applied in dialogues.
Items & Loot
- Increased chances that items found have a level requirements closer to the player's actual level when found. Players will still be able to find items with higher level requirements, but player level is now taken into account.
- Removed Common item loot drops from high level loot crates.
- Reduced the amount of healing items that the player will find from crates and defeated enemies.
- Increased base damage from melee bodies, handles and addons by approximately 5%.
- Reduced base damage from ranged bodies, muzzles and grips by approximately 5%.
- Fixed resistance stats not being applied for crafted gear when adding addons.
- Reduced gear addon resistance and critical chance bonuses.
- Ensured that quest reward "Diver's Helmet" will no longer drop as random loot.
- Removed slots from all protective suits.
Sound
- Updated melee sound effects across the board.
- Updated mount sound effects volume.
- Added sound effects for tribe war trebuchet.
- Updated sounds when the player lands inside HQ after being launched from catapult.
Combat
- Fixed issue with abnormally high damage output due to consumable top mod applying meta damage multiple times during equip and unequip.
- Fixed ability damage not being able to inflict critical hits.
- Reduced Dead-Eye Sharpshooter perk damage multiplier from 2.0 to 1.25 to ensure that it is comparable to other perks.
- Disabled end-of-combat slow motion camera for short combat scenarios.
- Adjusted valid angles for combat targets to reduce camera movement in combat.
- Disabled camera look-at when striking characters up in the air.
- Fixed a few cases where airstriking would not complete its last attack. ● Adjusted speed of some enemy grabs. It is now a bit easier to dodge them in time.
- Fixed kick attack from smaller enemies being too difficult to parry. Parry window is now more consistent and enemies can be staggered out of it.
- All Tribe Sifus and Lupa Lupin in the final encounter now react stronger to being parried, allowing players to parry and then counterattack.
- Fixed issues with tracking on Jagni Staff attacks. First three hits will no longer overshoot targets and dodge attack is more reliable.
- Fixed sometimes spawning double death particle effects on defeated enemies.
- Fixed issue with Pichu Nanchuk not stopping its animation.
- Fixed larger enemies with melee weapons animating too quickly at slow walking speeds.
- Adjusted hit reactions for Morks to make melee more viable and satisfying to use.
- Fixed issue with dodge shooting while reloading not moving the character correctly.
- Fixed issue with Airstrike sometimes being canceled.
- Adjusted the range for melee attacks to improve enemy tracking and reduce misses.
- Fixed issue where melee gap closer would sometimes overshoot.
- Fixed backwards attack for crush weapons resulting in a miss most of the time.
- Adjusted animations for unarmed and glove attacks to be faster.
- Fixed issue where the player would sometimes become stuck underneath larger enemies after being knocked to the ground.
- Added ability to slide underneath legs of titans.
- Fixed issue where the player would sometimes get stuck inside an enemy after a vault or legslide move.
- Fixed issue where the player would sometimes get stuck inside an enemy after Airstrike.
- Adjusted sound and rumble effect for successful parry to improve feedback.
- Fixed issue where Airstrike would cause enemies to be launched very far.
- Improved aiming for Jumbo Puff when throwing rocks.
Quests & Achievements
- Fixed game progress not being able to reach 100% due to unavailable quest states within a single playthrough.
- Fixed "Back to the Roots" quest sometimes not being completed.
- Adjusted tribe war flow to be more robust.
- Fixed the "Old World Gadgets" trophy correctly unlocking after finding old world gadgets.
Crash Fixes
- Fixed crash when moving objects between areas using Telekinesis.
User Interface
- New weapon Wung-Fu is now only unlocked when the player has crafted a new weapon instead of being unlocked when looting an individual component. ● Added correct "fast travel locked" message when attempting to fast travel while climbing a ladder or falling.
- Added Mercenary DLC indicator to main menu.
- Added dark backdrop to QTE prompts to improve readability on lighter backgrounds.
- Moved Comic-book Effects to ensure that the counter QTE prompt is visible.
- Reversed Hypoxia Warning percent value to be consistent with other zones.
- Added fading to enemy & friendly markers at 30m distance to reduce HUD clutter.
World
- Remove several area objectives from Suburbia, as they are tied to the Moog quest and could cause confusion.
- Replaced a couple of NPC tasks that didn't work as intended.
- Added missing "No-Rain" volume to the sewer entrance at oil fields to prevent indoor rain effect.
- Subnautica station is now fully covered by correct post-process volume.
- Improved look for indoor puddles.
- Fixed issue where the player was able to fall through the world in the Myriad Fortress.
- Fixed issue where the player was able to fall through the world in an Ankati Outpost.
- Fixed issue where big oil planes were possible to walk on.
- Fixed Oil Field Monster's presentation camera being triggered underground.
- Fixed area objectives for Gutway 6G counting incorrect amount of Superb Loot.
Miscellaneous
- Disabled fast travel when jumping from water.
- Fixed issue where the "Unspeakable hand" Wung-Fu could cause NPCs to fall through water surfaces instead of drowning.
- Fixed issue with rocket NPC being stuck in air after explosion.
- Fixed issue with rocket NPC explosion particle effects popping when being removed.
- Adjusted free-fall duration needed for Mounts to trigger hard landing.
- Fixed attribute check labels in puzzles incorrectly being displayed as "Loot Chance" instead of "Intellect".
- Fixed infinite jump while using photo mode.
- Fixed fireflies not spamming narration when caught.
- Fixed child memories being auto-completed when opening photo mode.
- Fixed some doors opening after using photo mode.
- Fixed smoke from burning villages sometimes being rendered as stripes on AMD GPU's.
- Adjusted default camera pitch up a bit so it's not positioned directly behind the player
- Fixed resistance being reset after modifying appearance.
6

Reporting for AGW News: |AGW|Fir3fox
June 27, 2021

---
Red Dead Redemption 2 News:
Bounty Hunting and Showdown Mode Bonuses
Plus Discounts on Bounty Hunting Essentials and More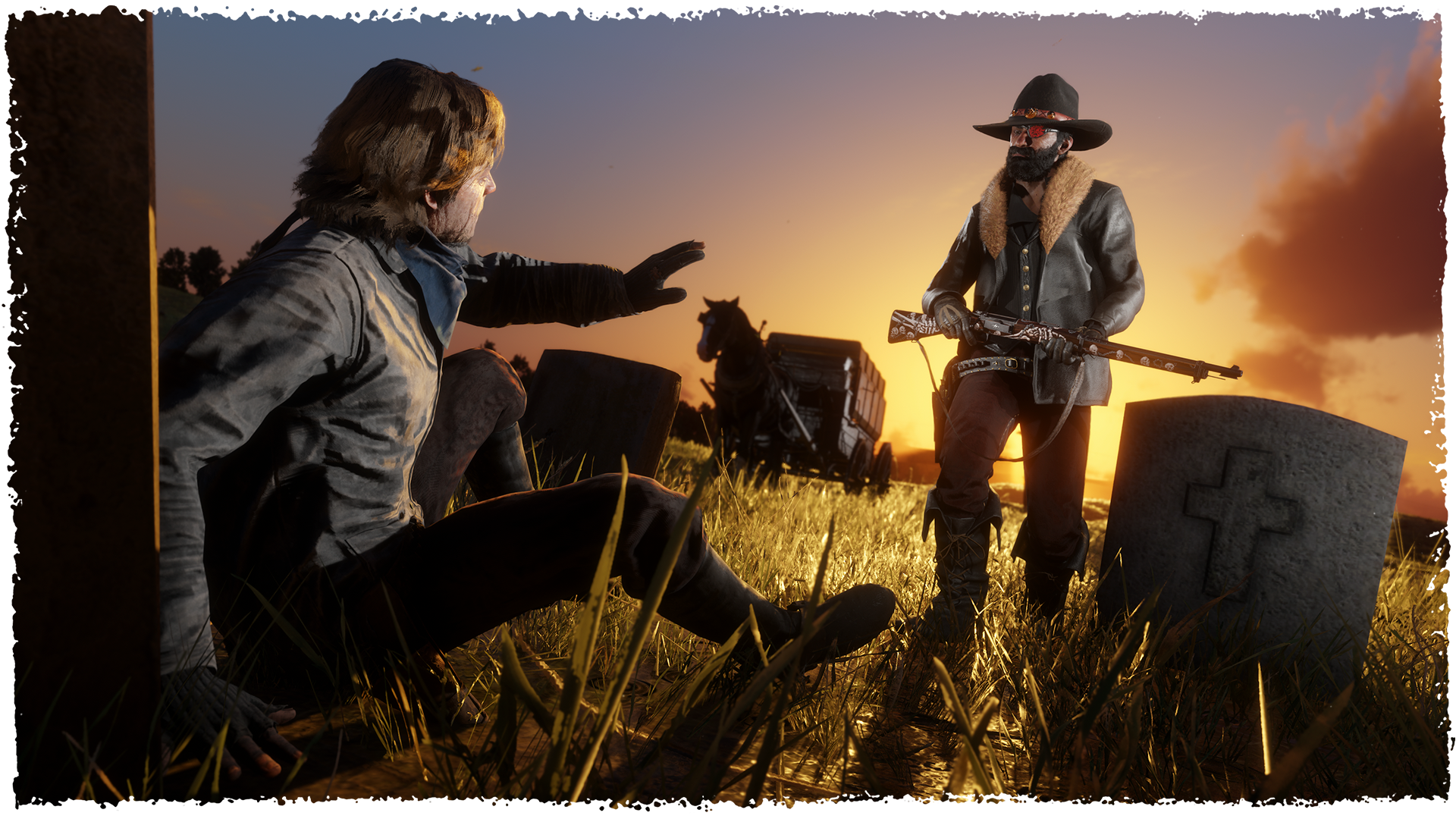 Vigilantes roaming the frontier looking for their latest score will be happy to hear that all Bounty Missions - including all ten Legendary Bounties - and Bounty Hunter Free Roam Events are doling out an extra 50% Role XP through February 24th.
Those looking to measure themselves against their fellow gunslingers in any Showdown Mode will also receive a 50% XP Boost, all week long. Team up with a squad of hot-handed crackshots in this week's featured series, Gun Rush: Teams. Blast your way through an ever-shrinking battle area littered with horses, weaponry and Armor to be the last team left alive. You can also pick up a 50% XP Boost in all Races this week.

If you're keeping an eye on your cash, the Wheeler, Rawson & Co. Catalogue has an assortment of deals on bounty hunting essentials, including the Bounty Hunter variants of the Schofield Revolver and Bolt-Action Rifle, as well as 30% off the LeMat Revolver and Repeating Shotgun. Remember that bringing your targets in alive can boost your earnings - take 30% off the cost of the Reinforced Lasso this week to help contain any would-be escapees.

PlayStation Plus members will receive 3 Moonshiner Mash Refills and 3 Trader Resupplies, both free of charge.

And Red Dead Online players with a Twitch Prime account connected to the Rockstar Social Club will receive a free Collector's Bag and the Polished Copper Moonshine Still Upgrade.

Check Rockstar Support for details and limitations.
7

---
BIS has released the latest update for Arma 3, it weights in at ~1021 MB, for those already up to date (new players will have to download the full game), to update simply open Steam & allow it to auto update.
SPOTREP #00027 Game Update: 1.22 (Campaign improvements, Linux server performance, GameSpy removal)
reported
by Joris-Jan van 't Land
on Wednesday 18th June 2014
FROM: Project Lead
TO: Arma 3 Users
UNIT: Main Branch
ACTIVITY: Game Update: 1.22 (Campaign improvements, Linux server performance, GameSpy removal)
SIZE: ~1021 MB
CHANGELOG
Server browser:


Removed: GameSpy logo
Removed: GameSpy / Steam switch
Server count is now in-engine instead of scripted
Added: Player's name



Fixed: Devbranch watermark is no longer displayed after exiting Splendid Camera in the main branch
Fixed: Mistake in condition of function BIS_fnc_randomPosTrigger (You are not allowed to view links. Register or Login)

Fixed: Script error in function BIS_fnc_spawnGroup (You are not allowed to view links. Register or Login)

Fixed: Tactical vest camo ground model
Fixed: Wrong default values (You are not allowed to view links. Register or Login) in the fire and smoke effect modules fixed (it is only safety-check, it shouldn't have any impact on functionality)

Fixed: Iron sights and camo of armed offroad
Fixed: Dispersion and engagement ranges of TRG 20 and TRG 21 were switched
Fixed: TT05 - tweaked misplaced barrier
Fixed: Unknown Community Author for static weapons backpacks
Fixed: Align of holographic reticle
Fixed: Typo in strength of handbrake for quad bike
Fixed: Aimpoint visibility at night for MRD attachment
Fixed: Player can no longer respawn into vehicle stolen by an enemy
Fixed: Tasks were not auto-assigned correctly
Fixed: When a vehicle respawn position was moved while a vehicle was waiting for respawn, the vehicle was respawned on the position before the change
Fixed: Deleting a vehicle while it was waiting for respawn caused a scripting error
Fixed: Pressing Up and Enter while in the MP pause menu closed the Zeus interface
Fixed: Zeroing on EBR's ironsights
Fixed: CAS modules in the editor were not trigger activated
Fixed and updated all helicopters with proper inventory loads
Fixed: Camo selection on the Beanie
Fixed: RPT error when spawning a lightning bolt
Fixed: UI texture of Black MX with muzzle accessory
Fixed: Geometries of UAV entities
Fixed: Decelerons on the Wipeout so that they both extend to the same extent when banking
Fixed: Map icon size of portable mortars, offroad variants and assault boats
Fixed: Missing vehicle dust effects for desert surface (only on Altis)
read the full changelog below...
You are not allowed to view links.
Register
or
Login